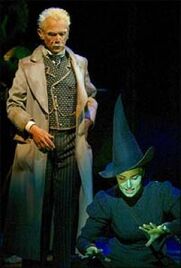 A Sentimental Man is a song from Wicked sung by the Wizard. In the song the Wizard tells Elphaba and Glinda how much he always wanted to be a father, and that "everyone deserves a chance to fly", which is later referred to during "Defying Gravity".
Lyrics
Wizard:
I am a sentimental man
Who always longed to be a father
That's why I do the best I can
To treat each citizen of Oz as a son -
Or daughter

So Elphaba, I'd like to raise you high
'Cuz I think everyone deserves
The chance to fly
And helping you with your ascent al-
Lows me to feel so parental
For I am a sentimental man
Videos
Trivia
The first two lines of "A Sentimental Man" are sung after Glinda returns to the Emerald City after Elphaba's apparent death and gives the Wizard and Madame Morrible the news about Elphaba. She shows the green bottle belonging to Elphaba's mother and the Wizard begins to realize that Elphaba was his daughter.