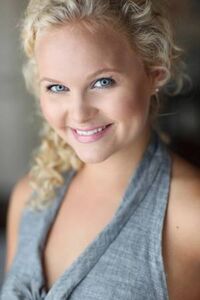 Amanda Jane Cooper is an actor-singer who has played Glinda in the Wicked North American First and Second National Tours and is slated to join the Broadway Production in July of 2017. She attended Carnegie-Mellon University.
History
Cooper joined the First National Tour on April 19, 2011, replacing Chandra Lee Schwartz as Glinda. She left when Katie Rose Clarke returned as Glinda on Novmeber 15, 2011.
Cooper joined the Second National Tour On December 9, 2015, replacing Carrie St. Louis as Glinda. She left when Ginna Claire Mason assumed the role of Glinda on March 12th, 2017.
Cooper will join the Broadway Production on July 31st, 2017, replacing Kara Lindsay as Glinda.
Gallery