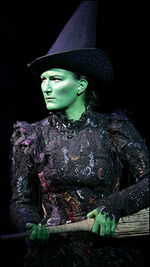 Ana Gasteyer is an actress and comedian, who has played the role of Elphaba in Wicked: The Untold Story of the Witches of Oz.
Wicked
Gasteyer was the orginal Elphaba in the Chicago cast from July 13, 2005 to January 24, 2006 and was replaced by Kristy Cates. Then she went to Broadway, replacing Eden Espinosa as Elphaba on October 10, 2006 and was replaced by Julia Murney on January 9, 2007.
Career aside from Wicked
In 1996 Gasteyer joined the cast of Saturday Night Live, a comedy sketch show. Former Broadway and 1NT Elphaba, Nicole Parker appeared on a similar show, entitled MadTV.
After six seasons, Gasteyer left SNL in 2002. Since then, she has appeared in various television programs and films. In 2004, Gasteyer played the mother of the main character Cady Heron (Lindsay Lohan) in the feature film Mean Girls.
Gasteyer has made guest-appearances on various TV shows such as Seinfeld, Mad About You and Frasier. She played Sheila Shay in Suburgatory.