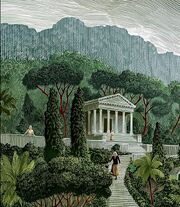 The brides of Maracoor refers to the community of seven single women residing on Maracoor Spot, a secluded island under the jurisdiction of the larger nation of Maracoor Abiding.
The brides are deeply committed to obscure devotional practices. Every morning, they cut their feet and let the salt water sting, all while twisting kelp into the nets that apparently shape time. Their job is all-important, and not quite what it seems.
When one dies, Lucikles, the island's civil-servant overseer and current Minor Adjutant to the House of Balances of Maracoor Abiding—the only other person they ever see—brings another baby from the mainland of Maracoor Abiding to be raised as a bride. Once every year, on Visitation Day, Lucikles travels from the capital city of Maracoor Crown to Maracoor Spot to to assess the well-being of the brides and to report their status and their needs to the government.
Known brides
The brides are listed in order of precedence; from oldest to youngest.
Known former brides
Notes
A previous elder bride, named Bvaillura, didn't speak for five years, that is until the last two days before she passed away.