Mandy Gonzalez was the 11th Broadway Elphaba. She took over the role on March 23, 2010, replacing Dee Roscioli, alongside Katie Rose Clarke, as Glinda. She played her last performance on January 30, 2011, being replaced by Teal Wicks. 
Biography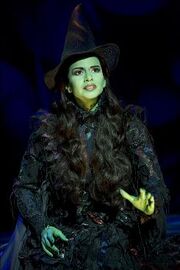 Her acting career began in the off-Broadway production of Eli's Comin', for which she won an Obie Award. Her Broadway debut came in the musical Aida in 2001, for which she understudied the role of Princess Amneris for Idina Menzel. Later, she returned the show as the lead in the same role. She also appeared in the musical Lennon, in which she played several roles at different times. In 2008, she was seen in the Original Broadway Cast of In The Heights, in which she played the role of Nina Rosario. She also portrayed this character in the off-Broadway cast and won a Drama Desk Award for her performance. She left this role on January 31, 2010, to begin performing as Elphaba in Wicked. Also in 2008, Mandy was offered the role of Elphaba in the 1st National Tour of Wicked to replace Carmen Cusack, but declined the role and the role was given to former Elphaba, Donna Vivino. Her film credits include Julie Taylor's Across the Universe, In God's Hands, Third Watch, The Good Wife, and Guiding Light. She can be heard singing on the soundtracks of Mulan II and Urban Legend. During her run in Wicked, Gonzalez presented an award to the 5 millionth audience member and celebrated Wicked's seventh anniversary.
She is now starring in the role of Angelica Schyler in Hamilton.