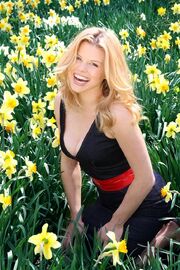 Megan Hilty is an American theater and television actress and singer. She was born on March 29, 1981 and is most famous for her work with the musical Wicked. She also starred in the musicals, 9 to 5 and The Wild Party. She has appeared in such television shows as The Suite Life of Zack and Cody, Deal or No Deal and Ugly Betty, among others. She  starred  as Ivy Lynn in the hit NBC show SMASH and Liz in the TV series Sean Saves the World. She currently plays Rosetta in the Tinker Bell movies after Kristin Chenoweth moved on to other things.
Wicked
Broadway
Megan first starred in the Broadway production of Wicked as the standby for Glinda. She joined the company on August 3, 2004 until she was cast as lead on May 31, 2005. She departed the company on May 28, 2006. She starred alongside Shoshana Bean, then Eden Espinosa as Elphaba.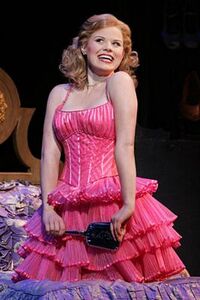 On Tour
She temporarily joined
Wicked
's First National Tour, reprising the role of
Glinda
from September 6, 2006 until December 31, 2006, again starring alongside
Shoshana Bean
as
Elphaba
.
Los Angeles
She again reprised the role of Glinda in the original Los Angeles production of the show. Previews began on February 10, 2007 with an official opening night of February 21, alongside former co-star Eden Espinosa as Elphaba. She departed the company on May 18, 2008 and returned October 31 to close the production, which played it's final performance January 11, 2009. She starred alongside Eden Espinosa, Caissie Levy and Teal Wicks as Elphaba. 
Hilty has expressed interest in returning to the role in the near future.
Trivia
In 2010, Megan Hilty confirmed that she would be providing the voice for the character the China Princess in the animated movie Dorothy of Oz, based on The Wonderful Wizard of OZ.
She also provided the singing voice for Amy Poehler's Snow White in the 2007 film Shrek the Third.
Megan has over 70k followers on Twitter. (@meganhilty )
In one performance of Wicked, during 'Popular' Megan Hilty presents Shoshana Bean's character, Elphaba, with a pair of 'pink panties' as a joke. 
Megan is the voice of Rosetta in some of the Tinkerbell movies (Secret of the Wings, Pirate Fairy, and the Pixie Hollow Games)