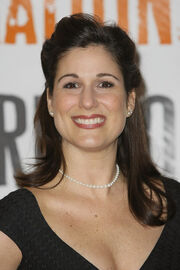 Stephanie Janette Block
(born September 19, 1972) is an American actress and singer. She portrayed the role of
Elphaba
in the early readings of the
Wicked
(2001-02); performed as understudy in the San Francisco tryouts (2003); originated the role on the first national tour (2005-06); and later reprised the role on Broadway (2007-08).
Personal Life
Block was born on September 19, 1972. In 1992, Stephanie originated the role Belle in the Disneyland Beauty and the Beast stage show. On October 25, 2007, she married Sebastian Arcelus, who starred alongside her in Wicked, as Fiyero.
Theatre Career
Block has performed in many shows aside Wicked. Some highlights include Funny Girl, Crazy For You, Oliver!, The Dead, Bells Are Ringing, and the original casts of The Pirate Queen, The Boy from Oz, and 9 to 5. She also replaced Sutton Foster in the revival of Anything Goes. She recently closed the Falsettos revival.
Wicked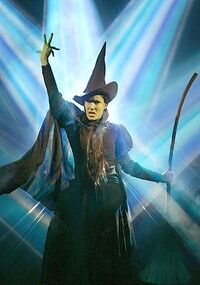 Stephanie J. Block (or 'SJB' as she is known by fans) was the original choice for the role of
Elphaba
, and was the actress
Stephen Schwartz
thought about while composing the original score of the musical. She read the role of
Elphaba
during the early stages of development in 2001-2002, before
Idina Menzel
was cast in late 2002. Block served as understudy during the San Francisco tryouts of the show, before moving on to
The Boy from Oz
.
In 2005, Block returned to Wicked, originating the role of Elphaba on the first North American tour. Unfortunately, she injured herself during rehearsals, so original Broadway understudy Kristy Cates, had to fly over and cover for her. Block returned March 18, and officially opened the tour March 21, 2005. She departed March 5, 2006. During the San Francisco stop on the tour from August to September 2005, original Broadway standby Eden Espinosa covered the role of Elphaba, due to Block obtaining yet another injury.
She later reprised the role in the Broadway production from October 9, 2007 until June 15, 2008.
During her large career with Wicked she has starred alongside many actresses in the role of Glinda, including Kendra Kassebaum and Annaleigh Ashford.
Block also performed as Elphaba in the Fifth Anniversary one-off performance, The Yellow Brick Road Not Taken, and can be heard on the Fifth Anniversary cast recording singing "Making Good", a song which was originally the first song Elphaba sings. It was later replaced by the hit "The Wizard And I". For this recording, she is accompanied by Stephen Schwartz on the piano. 
Block is the one playing
Elphaba
in the current Wicked Commercial.