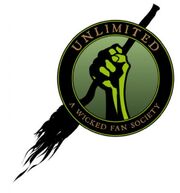 Background Information
Established in the Fall of 2003, UNLIMITED: The First Official Wicked Fan Society was created by Christopher Kuczewski in conjunction with the producers, creators, and cast of WICKED to help promote the show as well as serve as a fan base. UNLIMITED is proud to be the very first fan organization for WICKED.
In addition to being the first fan group for WICKED, UNLIMITED strives to do as Elphaba does...that is, to do good in the world. Our goal is to use the lessons we learn in WICKED in order to reach out to the community at large to make a difference in the world.
In August of 2005, UNLIMITED co-presented "One Wicked August Night" with Two Sides of a Coin Productions to benefit Gilda's Club NYC, which supports cancer patients and their loved ones. Hosted by radio personality Valerine Smaldone, the evening featured shopping from a variety of vendors as well as cast appearances and performers by members of the Broadway company of WICKED, including Marty Thomas, Saycon Sengbloh, Jerad Bortz, Anthony Galde, Adinah Alexander, and Jennifer Waldman. Each performer sang an Oz-inspired song. There was an auction for WICKED memorabilia, including a copy of the Original Cast Album signed by Stephen Schwartz, specially-made jewelry crafted by Todd and Doug of PoMo Galaxy, and other items. Several thousand dollars was raised for Gilda's Club.
On Friday, October 30, 2009 (the sixth annual WICKED DAY), it was announced that UNLIMITED is the proud recipient of WICKED's Official Seal of Approval. Several other fan organizations were also honored that day.
UNLIMITED is featured on both Unlimited Facebook Page and Unlimited Twitter Page in addition to The Official UNLIMITED Website.
As of June 2010, Christopher Kuczewski remains president of the organization, which has members on every continent on the planet.