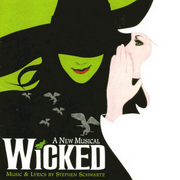 Wicked (Original Broadway Cast Recording)
is the album containing the songs from the American Musical
Wicked
with songs and lyrics by
Stephen Schwartz
. It was recorded by the musical's original Broadway cast and was released on December 16, 2003. In 2005, the cast recording won the Grammy Award for the Best Musical Show Album. The recording most recently has been certified platinum on November 30, 2006 and double platinum on November 8, 2010 by the Recording Industry Association of America with sales surpassing the two million mark.
Track Listing
Merchhandise
Customer reviews show that the average rating out of one-hundered-and-three reviews is five stars.
This item can be purchased from the North American Ozdust Boutique for $28.00 and the London Ozdust Boutique for £16.00.