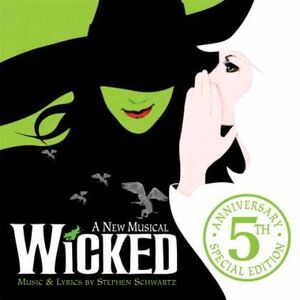 Wicked 5th Anniversary Year on Broadway was released to celeabrate the fifth anniversary of Wicked: The Untold Story of the Witches of Oz in 2008.
The edition comes with two discs, the original Broadway Cast Recording (2003) and an extra disc with special bonus recordings.
Tracks
Songs on disc 1 are:
Songs on disc 2 are:
For Good with LeAnn Rimes and Delta Goodrem (4:15)
I'm Not That Girl with Kerry Ellis (3:50)
Making Good (cut song) with Stephanie J. Block (4:00)
Solang Ich Dich Hab [As Long As You're MIne] (3:48) from Wicked Die Hexen Von Oz
Gutes Tun [No Good Deed] (3:33) from Wicked Die Hexen Von Oz
Jinnsei Wo Orori-Akase [Dancing Through Life] (7:37) from the Japanese production
Popyuraa [Popular] (3:45) from the Japanese production
Defying Gravity Dance Mix (3:45) with Idina Menzel
Merchandise
Customer reviews show that the average rating out of eight reviews is five stars.
This edition is only available through the North American OzDust Boutique , in which the price is $39.00.