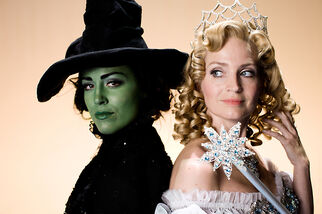 Wicked: Heksene Fra Oz
is the Danish production of the musical
Wicked
. It opened January the 12th 2011 at Det Ny Teater in Copenhagen. It closed May the 29th the same year.
The cast featured Maria Lucia as Elphaba and Annette Heick as Glinda.
The Danish produciton is one of the first to differ from the original Broadway production. The design of the show is inspired by steampunk which makes it very otherworldly. Almost everything except from the costumes of Elphaba and a few of Glinda's costumes are different from the original version.
Songs:
Alle hader ondskab (everyone hates Evil)
Min troldmand og jeg (my Wizard and I)
Afsky (Loathing)
Det' ikke mig (That's not me)
Her er skønt (Here's wonderful)
Jeg er jo ret sentimental ( I am pretty sentimental)
Mine vinger bære (My wings carry)
Det' ikke mig reprise (That's not me reprise)
Så længe du er min (So long that you're mine)
Intet godt kan man gøre ( Nothing good Can be done)
Vi må kæmpe mod ondskab (We must fight evil)
Jeg har forandret mig ( I have changed)
Finale (Finale)
Pictures
http://www.detnyteater.dk/forestillinger/wicked/fotosvideo/
See Also