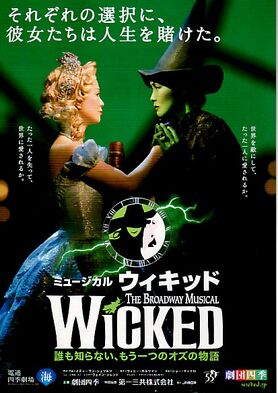 This production first opened in Tokyo, Japan on June 17, 2007 and closed on September 6, 2009. Then, the production went to Osaka, Japan on October 11, 2009 and closed on February 13, 2011. The production moved to Fukuoka, Japan on April 3, 2011 and has remained until August 28, 2011. It transfered on September 25, 2011 to Nagoya.
It reopened in Tokyo at the Shiodome Dentsu Shiki Theatre SEA in August 2013 ran until June 2014.
It is currently being performed in Sapporo with performances through to September 2016.
Cast
Tokyo, Japan: Originals
Tokyo, Japan: Final
Osaka, Japan: Originals
Osaka, Japan: Final
Fukuoka, Japan: Originals
Fukuoka, Japan: Current
Nagoya, Japan: Originals
Nagoya, Japan: Current
Songs