An Australian production of Wicked officially opened on July 12, 2008 with previews commencing June 27 at the Regent Theatre in Melbourne, Australia. Australians Amanda Harrison and Lucy Durack played Elphaba and Glinda respectively. They were joined by Rob Mills as Fiyero, Maggie Kirkpatrick as Madame Morrible, Rob Guest as The Wizard, Anthony Callea as Boq and Penny McNamee as Nessarose. The Australian production broke box-office records, selling 24,750 tickets in just three hours during pre-sales and grossing over $1.3 million worth in ticket sales on the first business day after its official opening. On April 27, 2009, the production passed the milestone of 500,000 patrons.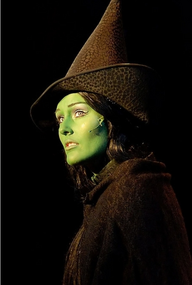 Rob Guest (The Wizard) died suddenly on October 2, 2008 after suffering a stroke the previous day. After Guest's passing, Rodney Dobson (Doctor Dillamond) played the Wizard with Anton Berezin (Witch's Father) taking over his role, until Bert Newton stepped in as Guest's replacement, which allowed Dobson and Berezinto return to their original roles. After 464 performances, the show then transferred to Sydney.
Temporary American Replacements in Australia
In summer 2009, Carmen Cusack, from the 1st National tour and Chicago companies of Wicked, made her Australian debut as the temporary standby for Elphaba, as Jemma Rix (regular standby) was playing the role full time due to Amanda Harrison's (Elphaba) extended leave. Harrison later returned to the role after a two month absence.
Also in 2009, Jennifer DiNoia (then Standby for Elphaba on Broadway; Current lead in London) covered the role of the Elphaba Standby in the Sydney production of Wicked, standing-by for Jemma Rix who had once again assumed the lead role temporarily for Amanda Harrison.